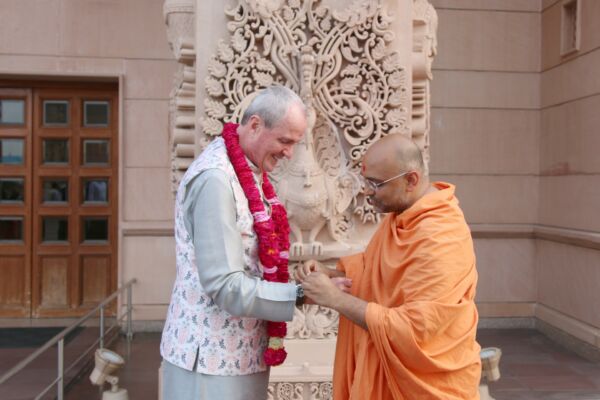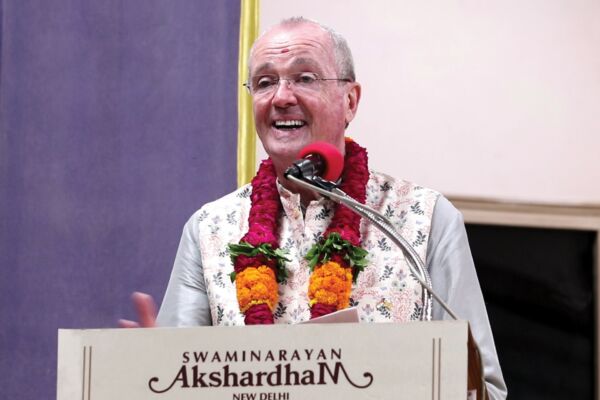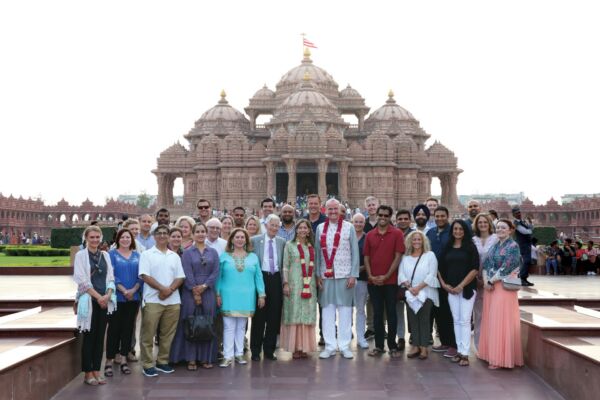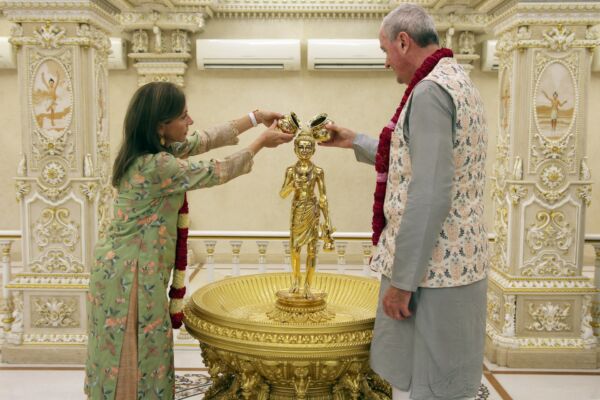 New Jersey Governor Phil Murphy visited Swaminarayan Akshardham in Delhi as part of the first official trip that a sitting governor of the state has ever taken to India. New Jersey is home to what will soon be the largest of three BAPS Swaminarayan Akshardham complexes worldwide, as well as seven other BAPS mandirs and a robust Hindu community.
Governor Murphy traveled with a forty-member delegation including New Jersey's First Lady Tammy Murphy; State Assemblyman Raj Mukherji; and State Senators Vin Gopal and Sam Thompson; Tim Sullivan, CEO of the New Jersey Economic Development Authority; Jose Lozano, President and CEO of Choose New Jersey; as well as economic advisors, and healthcare and technology officials were also present. The delegation included education officials Coleen Burrus of Princeton University; Tamara Cunningham of New Jersey City University; Pavita Howe of Rutgers University; Simon Nynens of NJIT; and Beena Sukumaran and Steve Weinstein of Rowan University. The group was greeted by Gnanmunidas Swami on behalf of Param Pujya Mahant Swami Maharaj, the sixth spiritual leader of BAPS.
The delegation offered respects at the Swaminarayan Akshardham Mandir and performed abhishek, the ceremonial pouring of sanctified water from 151 holy bodies of water from across India on the murti of Shri Neelkanth Varni. They also toured the educational Sanskruti Vihar, a cultural voyage that displays 10,000 years of India's heritage and contributions to society and attended the weekly assembly of devotees, where the governor spoke to those in attendance.
Governor Murphy emphasized during his message to devotees that he hopes his work as leader of New Jersey will add to the rich history of friendship between New Jersey and India. "Together, I firmly believe that we cannot just open the doors of progress and opportunity in New Jersey, but also here in India, and in doing so, we will be able to have a very real, and very positive impact on the lives of countless people and their families," he said.
Stressing a commitment for opportunity and worship, Governor Murphy said, "New Jersey has set itself apart as a place of opportunity for all who wish to be a part of our ever-evolving story, including those who left their country of birth to go in search of a better life for them and for their families. We are equally committed to ensuring our religious institutions of worship are protected throughout the state and that temples, such as the mandir in Robbinsville, are able to grow with confidence and safety."
Governor Murphy personally met with His Holiness Mahant Swami Maharaj in Robbinsville, NJ in 2017 and noted during his visit that he looks forward to meeting him again during Mahant Swami Maharaj's upcoming trip to the United States in 2020.
In his blessings to the governor, Mahant Swami Maharaj wrote that he has prayed that Governor Murphy lead "with honesty, truth, virtues, morals and righteousness," and thanked the delegation for taking the time to visit Swaminarayan Akshardham. Mahant Swami Maharaj concluded his blessings to the governor by saying, "Keep God at the center of all that you do with selfless service, and success will definitely be yours."
Inspired by this evening's visit to the Swaminarayan Akshardham Temple in Delhi.

Proud that New Jersey will soon be home to one of the largest Swaminarayan Akshardham Temples in the world in Robbinsville. #NJIndiaMission pic.twitter.com/ikITogw4qo

— Governor Phil Murphy (@GovMurphy) September 16, 2019